Hours of Operations





M onday- Thursday


see schedule
for class times


Friday.

.......... special events


Saturday

.......for parties & events




Sunday

.......... for parties & events
209-855-0577
West Valley Mall
3200 Naglee Rd #120
Tracy CA, 95304
​
​
We do NOT require guests to mask or socially distance at their event if they wish not to.
​
Standard party . $350, 2 hours, and 20 participants:
Activities options: You may choose up to TWO options for a party
​
Gellyball (Ages 8+) (only a $29.99 upgrade for UNLIMITED GAMES)
Sword Fighting (Ages 8+)
Nerf Guns (Ages 8+) Participants will be required to work together and clean up the ammo
​
Combat Archery(Ages 12+ no exceptions)
​
​
Please make sure to wear long sleeves and pants for extra padding.
​
Parents, please, make it easy on yourself. If decorations and bells and whistles stress you out, DON"T do them! From the countless parties we have done in past YEARS we have observed, the fact that kids is, they DO NOT CARE about decorations and bells and whistles. They are more concerned in either beating on each other or shooting each other
We want to allow as many people from the community as possible to relieve stress in these current times, so after events, participants will be required to assist in picking up nerf ammo and equipment so that we may quickly sanitize and prepare between uses.
Last but not least any household that leaves a review of the party with pictures or video on "Tracy Rants and Raves" on facebook and tags us @knightlifeacademy will receive 2 free guest passes for any of our Friday Night Gelly Ball/Nerf Wars!! ($30 dollar value)
Do you have party needs? Well this is the right place for you.
Click here for a breakdown of a party
​
The birthday guest of honor gets to:
*cut the cake with a REAL sword! (under 18 yrs old cuts it WITH the instructor)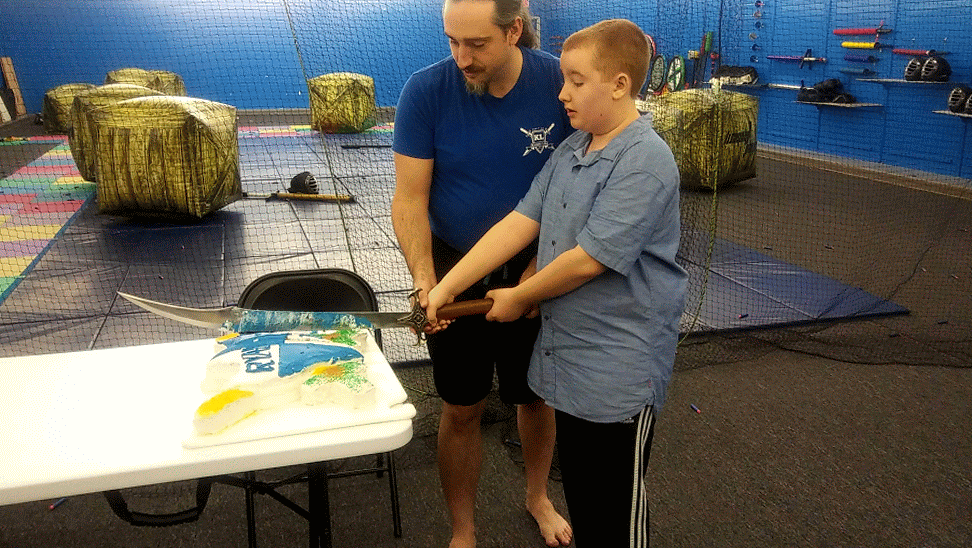 Knight Life Entertainment